Global experts in dynamic creative
Use any data set to trigger your creative
Delivering the right message at the right time,
not the same message all of the time
Proven to increase
the effectiveness of your campaign
The industry leading
Dynamic DOOH Platform
Liveposter is the world's leading dynamic DOOH platform. We give brands and agencies the opportunity to maximise the full potential of Dynamic DOOH and create award-winning campaigns that can change depending on the moments that matter in the real world.
We combine technology, data, insight and process to help create compelling DOOH campaigns that utilise the latest data to connect brands with their audience. Campaigns can be supplied to multiple media owners, globally, from a single integrated platform.
Using the Liveposter Ad Container or LPAC, our delivery vehicle for dynamic campaigns, we can publish and distribute content effortlessly from one central platform across multiple screens, networks and media owners.
This gives brands complete control of their DOOH and helps get their message out to their audience with real-time interactions.
We work closely with clients and media owners in delivering the most strategic, innovative and cost-effective DOOH media solutions. Our full-service team are the experts in planning, content creation and production giving you the tools to deliver meaningful content across our platform.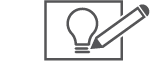 Concept
Ideation, brainstorming,
easibility advice,
workshops & training.

Production
Campaign adaption,
campaign building,
data integration.
Delivery
Media Owner integration,
testing and post
campaign documentation.
Data is the fuel to create amazing, dynamic campaigns. From counting down to the launch of a movie, changing an ad to reflect a local team winning the Premiership to changing the language of an ad in an airport to reflect the destination of the next departing plane; all of this is only made possible with access to live data.
Working with Liveposter couldn't be easier. Our expert teams have been created to help you at every step of the dynamic process.
The Liveposter platform is currently compatible across over 150 networks globally. 
Regardless of the signage software, our delivery team work with you to understand your system requirements. Following this process, we are able to then build and deliver a custom file specific for your screen network.
Our delivery team will work with you to run through a series of tests to ensure the LPAC file is delivering test assets in the correct manner.
The Liveposter Ad Container
Campaigns delivered through LPAC benefit from reduced testing times as the LPAC file is already tested on a media owner's system.
Liveposter enables brands to fully exploit dynamic digital out-of-home advertising by using data to create, update and schedule adverts over the course of a day, a week or long-term laydown.
We make brands' campaigns more relevant, more engaging and more effective. And relevance is the key to grabbing and retaining customer attention.
Speak to your audience in a more engaging way
Run dynamic at scale across your entire OOH plan
Increase the effectiveness of your campaign
Liveposter broadens the scope of what is creatively possible on digital out-of-home. Instead of being limited to supplying a linear image or movie file, with dynamic creative agencies can develop and execute more engaging creative concepts.
Each campaign is managed by a dedicated production manager. All assets are supplied to one contact, saving you the need to deal with and supply content to multiple media owners. 
It's great to have dynamic specific assets, we can help you make the most of your existing assets to make a great dynamic campaign.
Running a dynamic campaign is a collaborative effort, we're here to make it happen.
Liveposter's in house design studio offer full in-house creative services.
Dynamic OOH has been a driving force of change within the out-of-home (OOH) sector for the past 6 years. It comes as no surprise why; Dynamic makes your OOH campaign work harder, ensuring that the most relevant creative is always displayed.
Media planning is constantly evolving, using data intelligently across all media channels to deliver more effective campaigns. Liveposter enables you to extend your data and digital content strategies into an additional channel, providing extra value to the media plan.
Dynamic adds value
to your campaign
Communicate the value
to all key stakeholders
Get creative agencies
on board early
Working with Liveposter couldn't be easier. Our expert teams have been created to help you at every step of the dynamic process.

Helping our clients realize the power of DOOH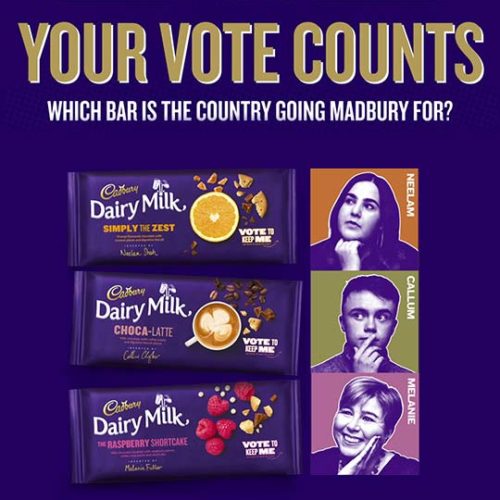 For their national Inventor campaign, three new chocolate bars were produced in limited-edition, with a competition deciding which Dairy Milk bar would continue into production. Mondelez amplified their campaign in DOOH by showing the online competition in real-time by displaying the current leading bar, and subsequently announcing the winner.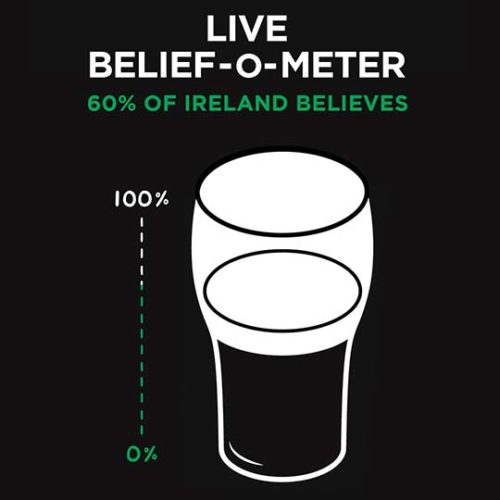 Diageo wanted to support the Rugby World Cup with their Guinness partnership. An Instagram poll was used to monitor people's sentiment and results were then displayed in DOOH, the pint glass would fill to a level that indicated the % of belief.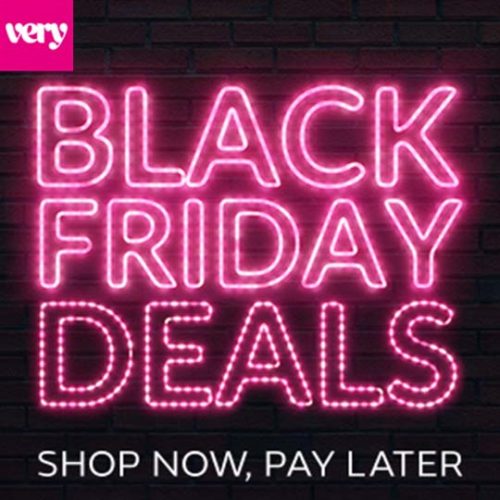 Very.co.uk run a dynamic campaign each Black Friday to ensure their campaign stands out ahead of their competition. Very's dynamic template allows them to change the product and the price in real-time, reacting to competitor activity. Integration with Taggstar data, for social proofing, displays how many products have been sold in the last day.
A location call out adds contextual relevance to each screen running the campaign.

Co-op wanted to promote their Summer of Food range by showing specific products against specific moments. Using dynamic, creatives were scheduled based on time of day, day of week and within proximity to the nearest Coop, with the store address displaying in the creative.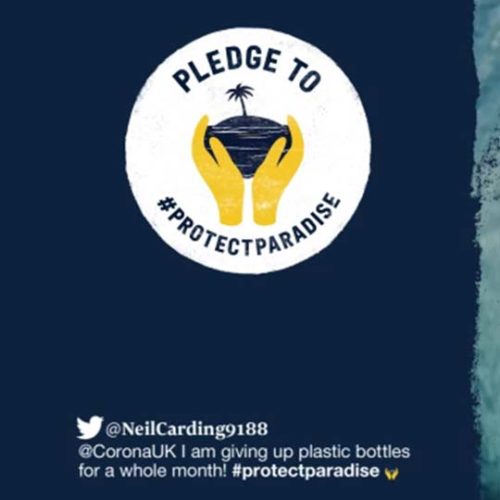 AB Inbev wanted to amplify their #pledgetoprotect campaign for World Oceans Day on Waterloo motion. As people pledged/tweeted, rubbish was removed from the beach in real-time.
After the campaign, the number of pledges made were shown on London Bridge Motion and Transvision screens.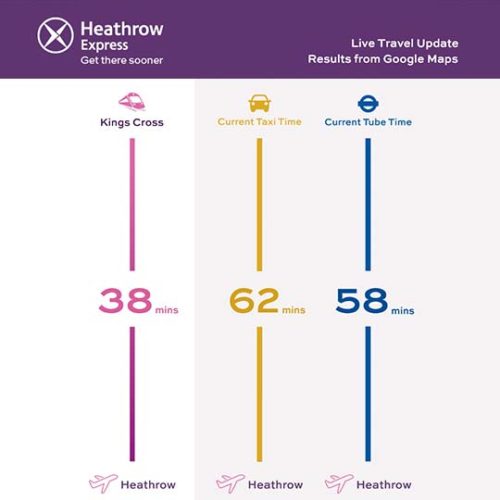 Heathrow Express use Liveposter to trigger a specific creative when it is quicker to travel to Heathrow when compared to the underground or by car.
The campaign integrated TFL, Google Maps and HEX proprietary data through their API into the Liveposter platform to pull in real time travel data into the posters.
This innovative media mechanic is yet another way we are pushing the boundaries through digital technologies to be relevant to our consumers, at just the right time.

Andy Logan

Marketing Manager for Stella Artois Cidre
Innovation is at the heart of AXA's culture.
It is key to every part of our business and this campaign is a fantastic example of how it drives our marketing strategy.

Simon Lloyd

Brand and Digital Director, AXA
A huge thanks for all of your work & help & extra time in this campaign!! Went further than any of us imagined, so massively appreciate all your help in being fast, responsive and creative, has really made for a great campaign!

Samuel Ford

Senior Brand Manager, Kraft Heinz
This work and fresh thinking on DOOH have helped create a bigger and important role for OOH in our plans.

Sam Walker

Head of Marketing Campaigns, Co-op Food